Sidewalk chalk art is a drawing made from large and thick sticks of chalk that comes in different colors. These drawings are usually made on pavements or concrete sidewalks and are usually found in educational facilities. The drawings could be a simple or complex masterpiece and is a fun activity that everyone can participate in.
Sidewalk chalk art is a form of art that children and adults alike can partake in, although it is usually overlooked as a form of artistic expression. This art form is not restricted to just drawings or paintings but includes 3D illusions, pastels, and other murals, and other urban street arts. This is how to preserve sidewalk chalk art.
Sidewalk chalk art is not a recent trend. This art dates back to around the 5th century BC in Greece when individuals used charcoal to create colorful sketches, with the colorless matte surface of the streets at that time providing the perfect canvas.
In the 1960s, this trend was brought back to life on the streets of New York, with graffiti artists creating paintings along walls, sidewalks, and subways. This tradition quickly gained traction worldwide and other artists began bringing their own flair to street arts.
Sidewalk chalk art in its basic form can serve as a creative outlet for kids to hone their motor skills. The closure of the schools during the pandemic made sidewalk chalk art to become popular once again. So, it's not surprising that many people want to know how to make this art last longer.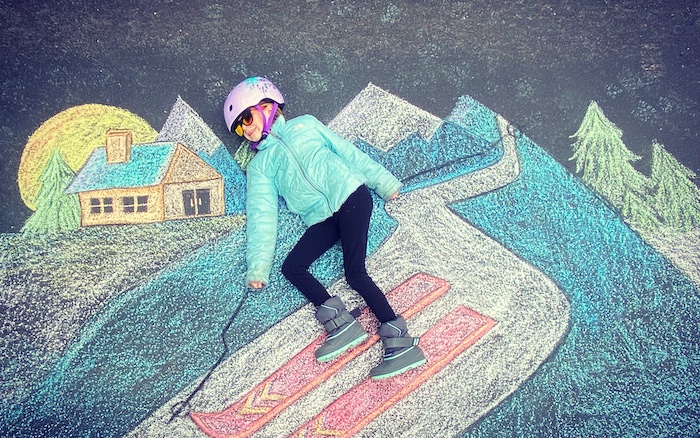 How to Create & Preserve Sidewalk Chalk Art
While we will be examining how to preserve sidewalk chalk art that you created, let's start with how you can create this art in the first place. Here then is how to create sidewalk chalk art.
A. Creating a 3D chalk art
Step one: Preliminary sketch
Let's assume you want to go draw a 3D fish with googly blue eyes, a tail, and a silly mouth, you would start by sketching an outlet of your proposed piece, just like any artist would.
Step two: Sculpting
You have to choose some clay. There are multiple colors of clay that you can order online from places like Amazon and eBay. Once ready, you have to get your hands dirty. Add some ingredients to stiffen up your clay. You can use the hangar and laundry cup. This isn't a step that everybody takes to make 3D chalk art. Proceed to sculpt your artwork (in this case, a fish). Brush some parts of the fish that should look shiny with paint.
Step three: Photography
After creating a sculpture of your artwork, photograph it from an upper angle, the same way a viewer would be looking down at it when it's a piece of chalk art.
Step four: Digital design
The digital design step is necessary for the optical illusion. In the end, this is where all the magic happens. Remove the background of your photographed artwork and super-impose it on the actual asphalt where it would be appearing ultimately. You can use any photo-editing software such as Adobe Photoshop, CorelDraw or Capture One to achieve this.
Touch up the lighting and add some extra highlights. To add perspective to your image, super-impose some grids made of squares (this is for interlocking sidewalks). Some people actually draw the square grid onto the pavement and then photograph it. But it's okay if you do so digitally.
Now take your photo to stretch and distort it until it makes up actual squares on your screen. It would take a little tweaking before you can get it just right. Outline your digital photo so that you can have a clear, nice pattern to follow when transferring it onto the pavement.
Step Five: Chalk art
It is recommended to begin your chalk art very early in the morning. Begin by putting down a layer of tempera. It is a temporary paint that washes away. Block out the colors solid before you put the chalk on top of it. Start creating your masterpiece.
Draw a white outline of the image to be filled in by colored chalk pastels. Rule out a square grid on the printed picture reference, increasing the grid size on the pavement to keep the dimensions of the original photo intact.
Shade quickly across selected areas; the more pressure that you apply, the darker the shade would be. Blend the colors to achieve a smooth transition.
B. Preserving your sidewalk chalk art
After spending hours creating a great sidewalk chalk art, the next challenge would be to preserve your masterpiece. Although it is quite certain that your artwork will not stay permanently, coming up with a way to ensure that, at least, your artwork stays for several days to allow passersby to appreciate your efforts, is something every artist desires. So, we've come up with ingenious methods we think would enable your sidewalk chalk art to last for a while.
The fixative protects powdery mediums such as chalk or charcoal, no matter the surface they are painted on. You can use either a workable or non-workable fixative. Using a workable fixative means that you can still draw on top the dried fixative without causing damage to your work. A non-workable fixative does not offer such luxury. No matter what fixative you choose to use, only spray it on fine coats.
Ultraviolet protectants offer protection for sidewalk chalk arts from ultraviolet rays, helping to ensure that the color of your art stays the same. When used over a non-workable fixative, a UV protectant gives an extra layer of protection. The UV protectant is available in both matte and glossy finishes. Read instructions on the product label to be sure that you're using the right item. After your chalk art is completed, spray light bursts of the protectant only after the fixative has dried completely.
This protects your artwork from moisture and humid conditions. It should be used with fixative or UV-protectant spray for added protection.
Use duct-tape and plastic drop cloth
You can drape a plastic drop cloth and duct-tape over your artwork. The duct tape will adhere perfectly to asphalt so long the area is not wet. Plastic drop cloths come in different sizes and thicknesses, and they're relatively cheap. So long as the rain is not torrential, they will provide enough protection to your artwork.
If you have discovered other ways on how to preserve sidewalk chalk art, let us know in the comments section.