Since the Christmas season is fast approaching, many people will shop for various decorations. Fortunately, you don't have to spend a dime to make adorable ornaments when you can make them from scratch using pine branches. Pine trees are among the evergreens you can condition for decorative use inside the home during the holidays.
This post will discuss how to preserve pine branches from evergreen trees. Additionally, we'll also cover how to use the branches for decorations at home.
Let's get started!
How to Preserve Pine Branches
Keeping pine branches green for a long time is something you can achieve with everyday household products. Here are the items you'll need to preserve evergreen branches.
Pine branches
Vases
Garden shears
Glycerin and water mixture
Hairspray or an anti-desiccant
Once you've assembled what you need, you can use two methods to preserve pine branches. You must decide if you want dried or fresh pine branches for your project.
a) Preserving Pine Branches with Glycerin-Water Solution
This method is ideal for preserving dry pine branches. So, here are the steps to follow.
I. Get Your Branches
Gather your pine branches by cutting them from trees with garden shears or collecting fallen ones on the ground. Cut branches that are about 18 inches in length at a 45-degree angle. This will ensure a larger surface area for absorbing the glycerin-water solution.
II. Clean and Dry the Branches
Next, remove any needles, debris, or pine cones from the branches. Moisture inside the branches will make it harder to finish the preservation process.
You need to dry the branches in a warm and dry place. Air-dry them by suspending them for at least three weeks. You can bundle them into groups using rubber bands if you have many branches. It's easy to reduce the time required for drying by picking thinner branches.
III. Prepare the Glycerin Solution
Make a solution of two parts water and one part glycerin. Warm water mixes better with glycerin than cold water. Pour the mixture into the vase you'll use for the branches.
IV. Put the Branches in the Vase
Place the cut branches into the vase to let them absorb the solution. Keep the vase away from direct sunlight and wait for the branches to take in all the liquid, which could take about a week.
V. Take Out the Branches
After a week, the branches will have absorbed most, if not all, of the glycerin-water mixture. Remove them and use them to make your Christmas decorations.
b) Preserving Pine Branches with Anti-Desiccant Spray
The next method for how to preserve pine branches is with spray paint or anti-desiccant spray. If you don't want a process that involves waiting for the pine branches to dry completely, you can use this method instead. Here's what to do.
I. Gather the Evergreen Cuttings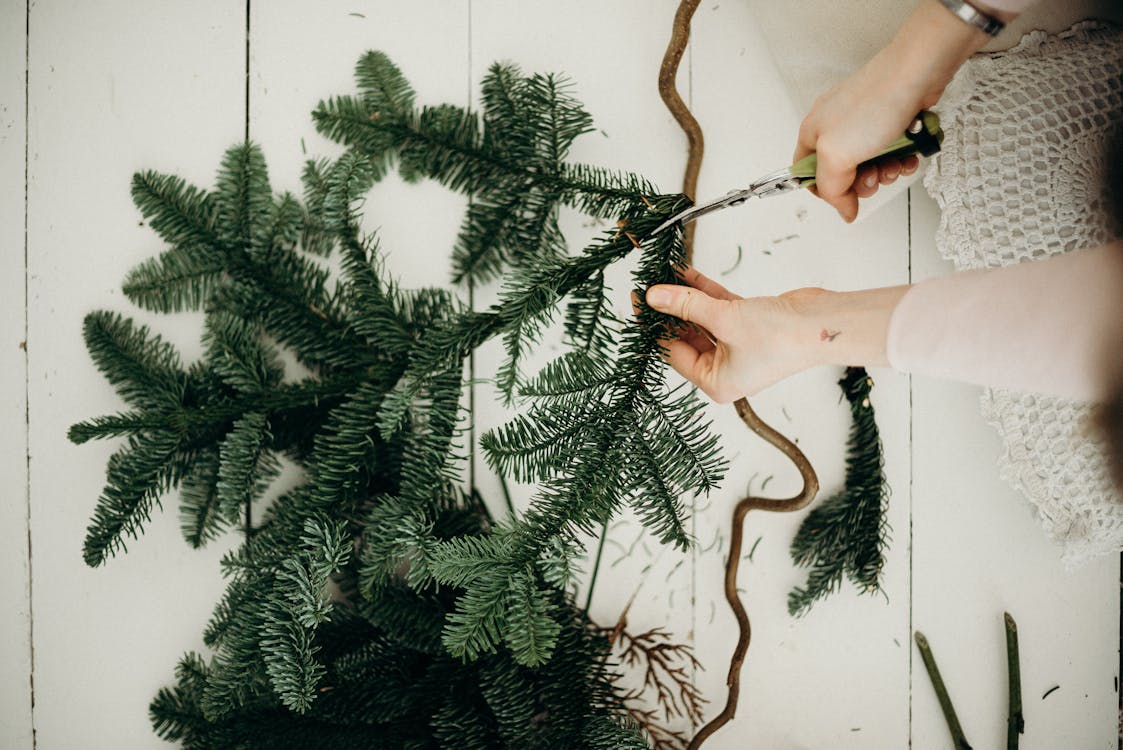 You'll need some fresh-cut branches with the leaves or needles intact. Remember to cut all the branches at a 45-degree angle. Fresh-cut branches make the best wreaths for your holiday season.
ii. Place the Branches in the Water
If you don't want to use the fresh evergreens immediately, placing them in a vase of water will ensure they won't dry until you are ready to use them.
III. Clean Up the Branches
Once you are ready to preserve your branches, you can take them out of the vase. Remove anything that doesn't add to the beauty of your decorations from each pine branch. You can keep the needles and pine cones if you want.
IV. Spray the Branches
Image Credits: blog.royers.com
The last step is to place the evergreen branches on a tray and spray them with anti-desiccant or hairspray. Ensure the liquid coats the whole branch, including the leaves and needles. Spray one side at a time for convenience.
If you don't need the branches to look natural, you can spray paint them with a color of your choice. This will make them look artificial but still stunning.
V. Use the Branches to Decorate
Now that you've coated the branches with anti-desiccant, they will remain green and vibrant throughout the season. You can use them to decorate your home according to your preferences.
How to Decorate Your Home with Pine Branches
One of the easiest and most convenient ways to spice up your winter holiday decorations is with pine branches. The pine trees outside your home can be a source of vibrant house ornaments that can make your indoor space warmer and more welcoming. Here are a bunch of ways you can use evergreen branches at home.
1. Put them in Vases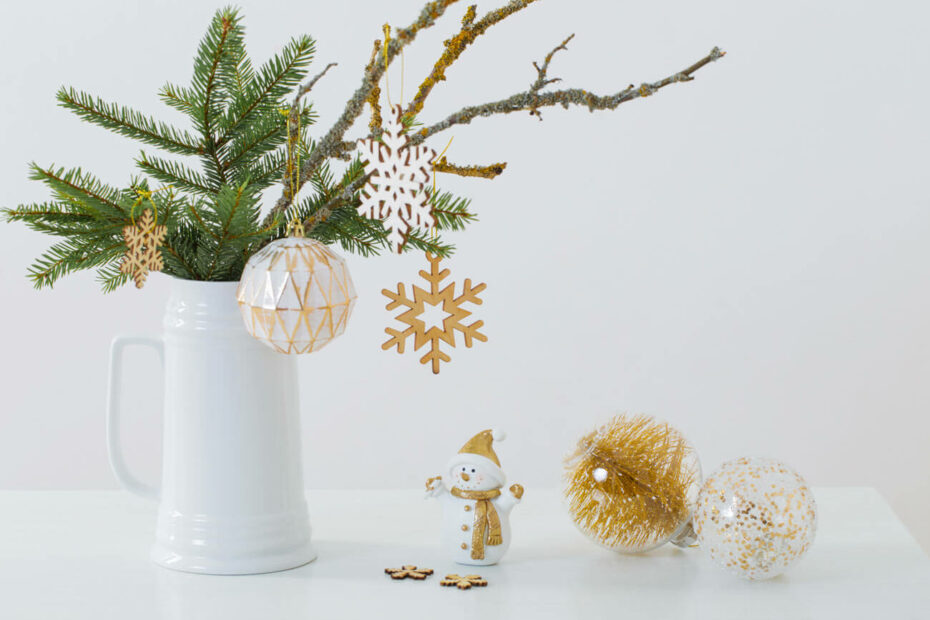 Image Credits: littlepieceofme.com
The fastest way to use pine branches as decorations is by placing them in a vase or container. This means treating the branches as you would a regular house plant.
The ideal location for your branches will depend on how much space you have around the house. If you'd like to preserve fresh flowers for your home, here's how to do it.
A small branch can sit in a smaller vase, mug, or glass bottle on a desk or table next to other decorations. Adding ornaments to the pine branches can make them look like miniature Christmas trees.
2. Make a Pine Wreath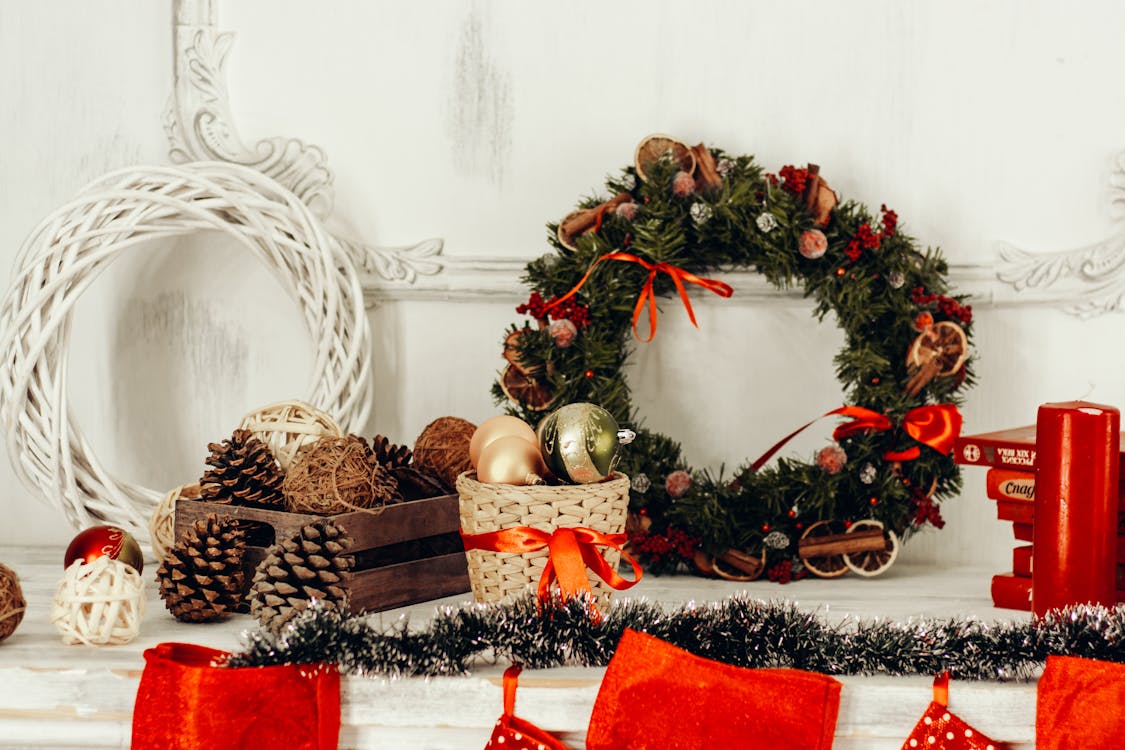 If you want to go further than a vase, you can try pine wreaths. It's an excellent way to invite the Christmas spirit into your home as you hang the wreath on your front door. You'll need the following.
Fresh pine branches
Floral wire
A circular wire frame
Ribbons
Wire cutters
Cut your branches into lengths of 12 inches. You'll need about 20 small branches to make a wreath. You'll need to make a circle frame using the wire. If you'd like a way to cut costs, you can use a coat hanger and reshape it into a circle.
If your wireframe is made of a single wire, it'll be delicate. You can use a double-wire frame for a stronger decoration. Fasten one end of the floral wire on the frame and thread it through your branches while twisting it around them one at a time.
Add all your evergreens to the frame as you twist the wire around them. Then, use the ribbons to conceal the wire and add other decorations like pine cones if you want. Finally, hang the wreath on your door using a nail or hook or place it on a flat surface.
3. Make a Pine Garland
While wreaths have a circular shape, garlands have a flexible, freeform shape that allows you to hang them in various designs. The length of the garland depends on how many pine branches you want to use. The materials you'll need are the same as those for making a wreath.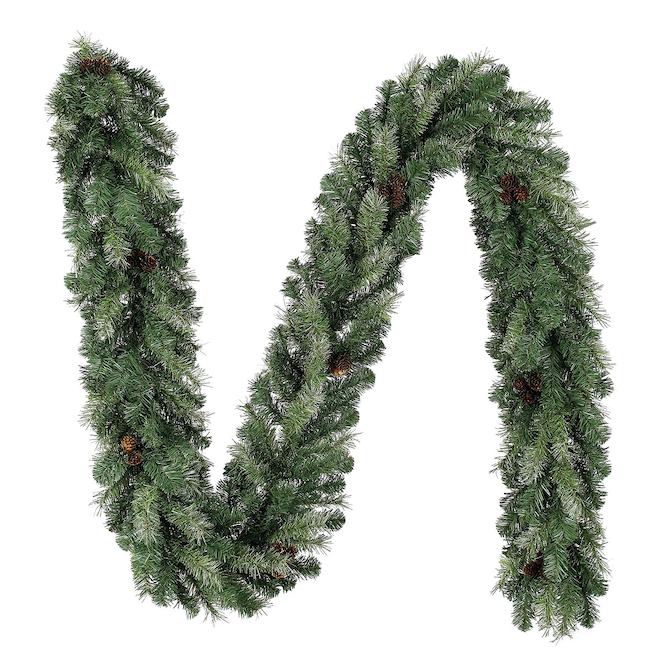 Image Credits: rona.ca
You'll need to thread the wire through the center of each branch while securing it in place by twisting the wire. Then, add the rest of the evergreen branches one by one. You can use a ribbon to cover the ends of the garland. Garlands pair well with other decorations, such as dried cranberries.
4. Make a Pine Swag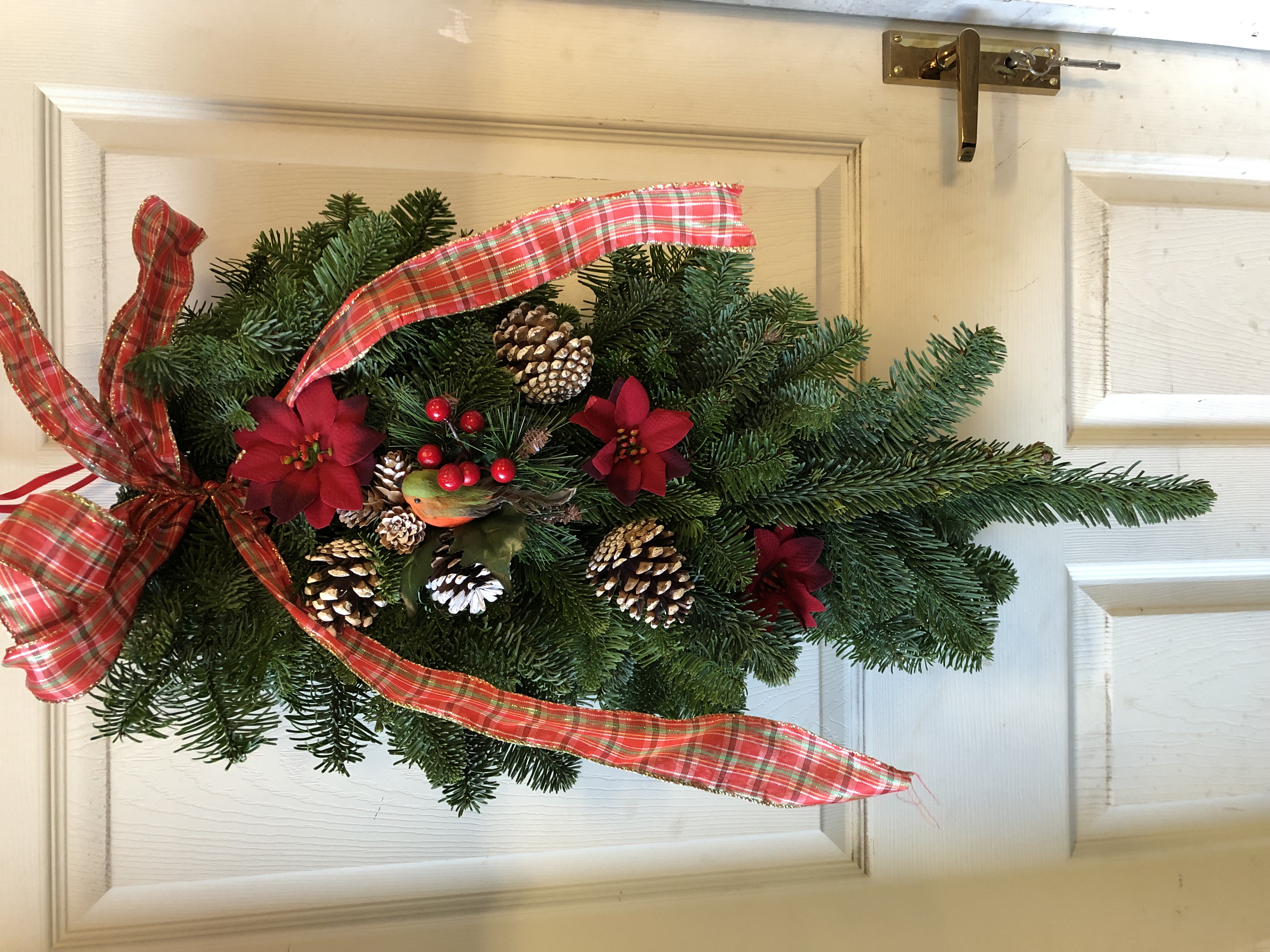 Image Credits: connorbrownewreaths.com
You can also create pine swag as part of your decorations. A pine swag is perhaps the easiest decoration you can make using pine branches. It only requires you to tie the pine branches together with a wire. Branches with pine cones will look better than regular ones.
Benefits of Decorating with Evergreen Branches
There are several reasons why using pine branches is a great way to decorate your home. Let's discuss them below.
1. Inexpensive
Pine branches are inexpensive because you don't have to buy them from a store. If you live where these trees grow freely, you have an excellent resource. This can help reduce decorating costs while adding beauty and elegance to your home.
2. Easy to DIY
Image Credits: freckledcalifornian.com
Something else about pine branch decorations is that you don't need to be an art and crafts professional to make them. These ornaments are easy to make because the necessary materials are easily found in your house. All you need is patience, and you'll make your evergreen decorations without hassle.
3. Durable
When you preserve evergreen branches with the methods in this post, they can last for months without needing replacement. This means you won't need to make them again if you don't need additional decorations.
4. Versatile
Pine branches can take various shapes and forms depending on your preferences. You can make them into wreaths, garlands, or swags. There are multiple ways you can use these branches to make your home more aesthetic.
If you'd prefer a quick summary of how to preserve evergreen branches, check out this video.
Conclusion
Pine branches are readily available items you can use for Christmas decorations at home. If you want the branches to last throughout the winter, there are some preservation steps to follow. You can use a solution of glycerin and water to preserve dry pine branches, while spraying hairspray on fresh ones can also keep them vibrant.