The festive season is quickly approaching. And as always, I have a few DIY decorations up my sleeve. Have you ever hooked cranberry garlands on your Christmas tree? They look fantastic. Follow along to see how to preserve cranberries for decorating and how you don't need much to make ornaments for your tree.
How Long Will Cranberries Last as Decoration?
Of course, there are speculations about using cranberries as decorations. However, well-preserved cranberries can last for up to a year if dried. However, most people like to go all out with the decorations in the festive season and might even want cranberries in water as a centerpiece.
Cranberries don't last long in the water or even brine. They can last about 2 weeks in brine. However, we are all for the aesthetic and the pop of red in our festive decorations. Therefore, I like to have dried cranberries for decorating. Additionally, it is a great activity for the whole family. However, I should caution against having toddlers around cranberries as they pose a choking hazard. A trusted adult or parent should be present at all times.
Below are the steps I take to ensure my cranberry garlands last long.
How to Preserve Cranberries for Decorating
The best part about cranberries is that their peak season coincides with the festive season. Therefore, they are usually available from mid-September to mid-November. This means they are readily available at your nearest store. Additionally, if you plant your own, all the better. I like to start by:
Step 1: Picking the Best Cranberries
Picking cranberries is an art if I do say so myself. First, I ensure that the cranberries are a deep red or crimson. Then, for my decorating purposes, I purchase at least 8Lbs of cranberries to have some leftovers for other Christmas decorations. I also like to carry out the "bounce test," where I bounce a few cranberries on a flat surface.
Image source: foodandrecipes.com
I do that to ensure they are springy, which indicates they are fresh cranberries. Additionally, another indicator is to squeeze the cranberries in your fingers. They should be firm, like an acorn. You can also buy already dried cranberries on Amazon.
Vincent Family Dried Cranberries Infused With Unsweetened Apple Juice,...
The dried Cranberry is a healthy and tasty portable snack that can be served along with almost all of your favorite recipes
Delicious in yogurt and salads as well as rice and grain side dishes and of course home baked cookies muffins and breads
Wide range of natural health benefits including antioxidant capacities and protection from some bacterial pathogens
Sustainably cultivated with love and pride by third-generation family farmers in Oregon since 1957
Step 2: Wash the Cranberries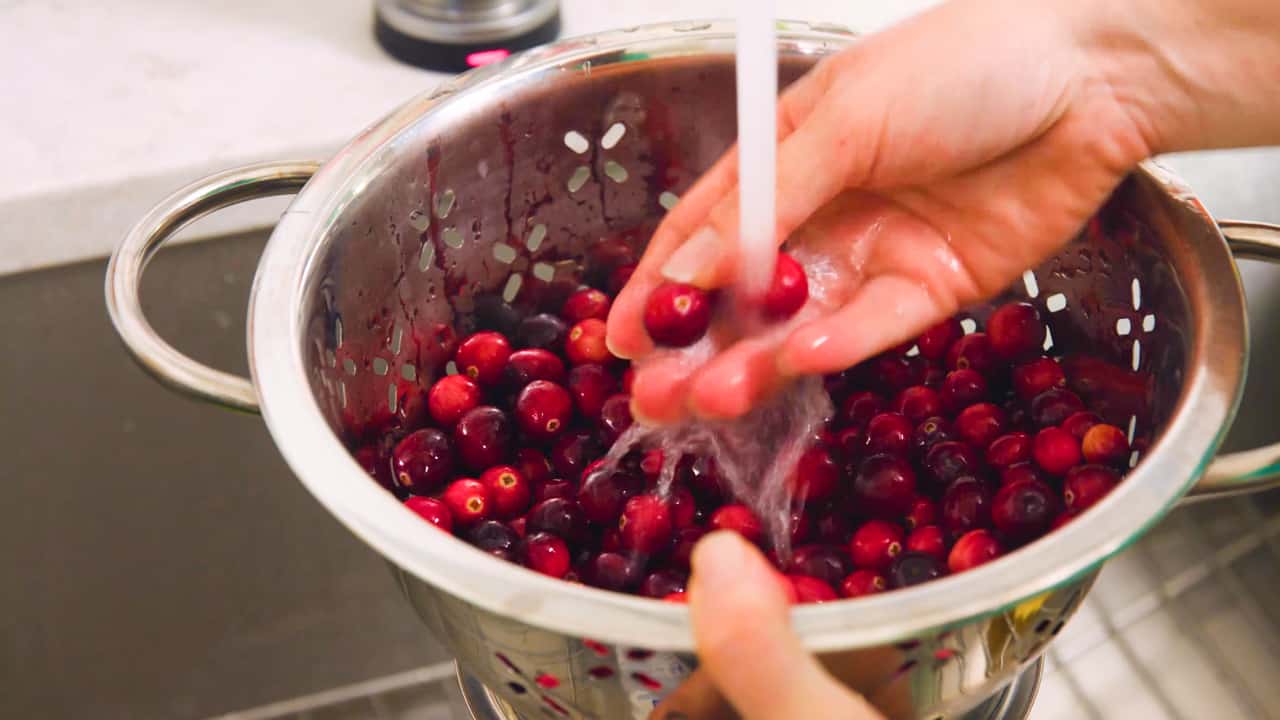 Image source: thestayathomechef.com
Washing removes dirt and grime to ensure your cranberries are as clean as possible. Set them aside in a jar and bring some water to a boil. Add cranberries to the boiling water and leave them for 10-15 minutes. There needs to be just enough water to cover the top of each cranberry. Ensure that all the cranberry skins have popped when you remove them from the hot water. Since nothing in my house goes to waste, including edible watermelon rinds, I use the skins on my bird feeders.
Step 3: Freeze Your Cranberries
Image source: iastate.edu
Freeze cranberries after laying them on a cookie sheet. Ensure they are in a single layer. Additionally, placing the cranberries on pure silver ornaments is not recommended because they stain silverware. The freezing process helps the cranberries to dry faster. Leave the berries for about 2 hours in the freezer. I found my cookie sheets on Amazon.
Air Fryer Parchment Paper Liners, 200Pcs Square Air Fryer Liners, 8.5...
Multifunction: Our square parchment paper for air fryer is suitable for cooking,steaming and baking various types of food,such as...
Health & Tasty : The air fryer parchment liners are made from food grade pulp,it's easy to use,keeps any kind of food at its most perfect...
Heat Resistance: Air fryer liners are resistant to high temperature,oil and heat,and can be safely heated to 446°F (230°C),leaving the...
Design with Holes: Parchment paper sheets are specially designed for air fryer.Sufficient and appropriate ventilation holes help speed up...
Easy to Clean: Perforated parchment paper for air fryer prevents food from directly contacting the fryer,protects your steamer and air fryer...
Step 4: The Drying Process
Image source: ruralsprout.com
Remove the cranberries from the freezer and line an oven tray with a baking sheet. Next, turn on your oven, and set it to the lowest temperature setting. Next, pop the frozen cranberries in the oven and leave them for 5-7 hours. Ensure to keep turning the cranberries every hour to ensure all the sides dry evenly. You might end up with half mushy and half hard cranberries if you don't.
Step 5: Separate the Colors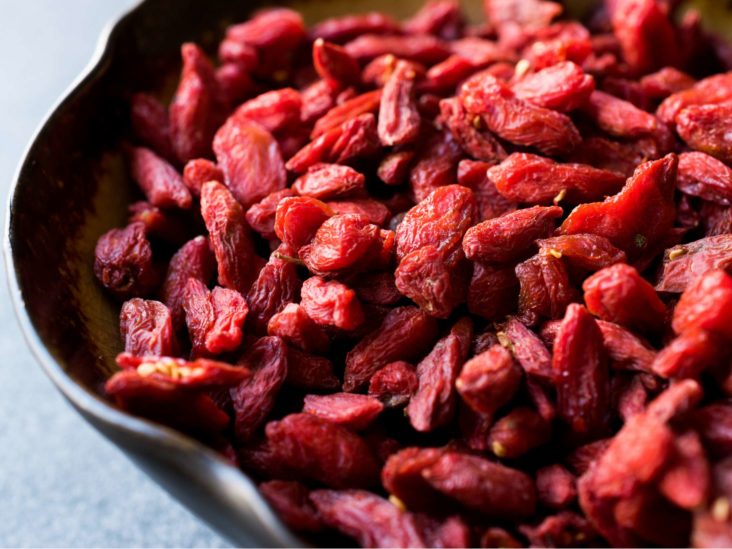 Image source: medicalnewstoday.com
After you remove the cranberries from the oven, some berries will be a darker color. If you are fine with some dark cranberries and other perfectly colored dried cranberries, then it should be fine. However, I prefer a consistent color for all my dried cranberries, so I do away with the darker cranberries. Sometimes I keep the darker cranberries for later when I use them as filling for my pie or throw them in my family's morning oats.
How to Decorate With Dried Cranberries
Decorating with dried cranberries is my favorite because I like creative challenges. So this year, here are the ways I will be using my dried cranberries.
a) Cranberry Garland
I like to hang cranberry garlands around my Christmas tree for a dash of a homey touch. Additionally, I like to encourage homemade decorations for the Christmas tree. Here is how I made the garlands. First, you need a strong thread, needle, and dried cranberries.
Image source: oneholidayway.com
Step 1: Loop the thread through the needle and ensure you have a long string to thread the berries.
Step 2: Thread cranberries through the needle and direct them to the end of the string. Of course, make a knot at the end; otherwise, the cranberries will go right through. Make as many as you want.
Step 3: Attach the garland to your Christmas tree and enjoy the nostalgic, old-fashioned Christmas charm. You can also add popcorn between the cranberries for a pop of white.
b) Front-door Christmas Wreath
I like making the front door wreath because it adds charm to other decorations. I use a normal store-bought fir wreath. However, I ensure it's as plain as possible so I can add my touch of the Christmas spirit. After making fruit and cranberry garlands, I wrap them around the wreath.
Image source: forestgarden.com
Additionally, I stick hollow stems in the fir wreath and pop-fresh cranberries through them for a pop of color and freshness. The dry cranberries look rustic and add more charm to my holiday decor. You can also add pine cones and gold-tipped cedar branches for a pop of color.
Other Decorating Ideas With Cranberries
There are lots of other ways to decorate with cranberries. Here are other ways I like to spruce up holiday decorating.
1) Outdoor Christmas Lights
Image source: familyholiday.com
This is a fairly simple method for your front porch or driveway. I prefer to use them on my porch since falling snow tends to get my candles wet. All you need are clear glass vases, fresh cranberries, and fake ice. Start by layering the ice cubes on the bottom of the vases, and sprinkle some fresh cranberries on top of them. I like to go overboard in this step, but you can skip it. Instead, I lay the candles carefully on each vase and light them.
2) Flower Cylinders
Image source: midwestliving.com
For flower cylinders, I like to use different sizes of glass cylinders. The varying sizes tie a space together. At the bottom of the cylinders, I insert red roses or whole red tulips and then fill the cylinders halfway with water. Sometimes I also like to use hibiscus because its edible.
I then float cranberries on top of the water and place a floating candle in one or two cylinders. Sometimes I forgo the candles because of the dangers of an open flame, but they add a nice and warm touch.
3) Statement Pieces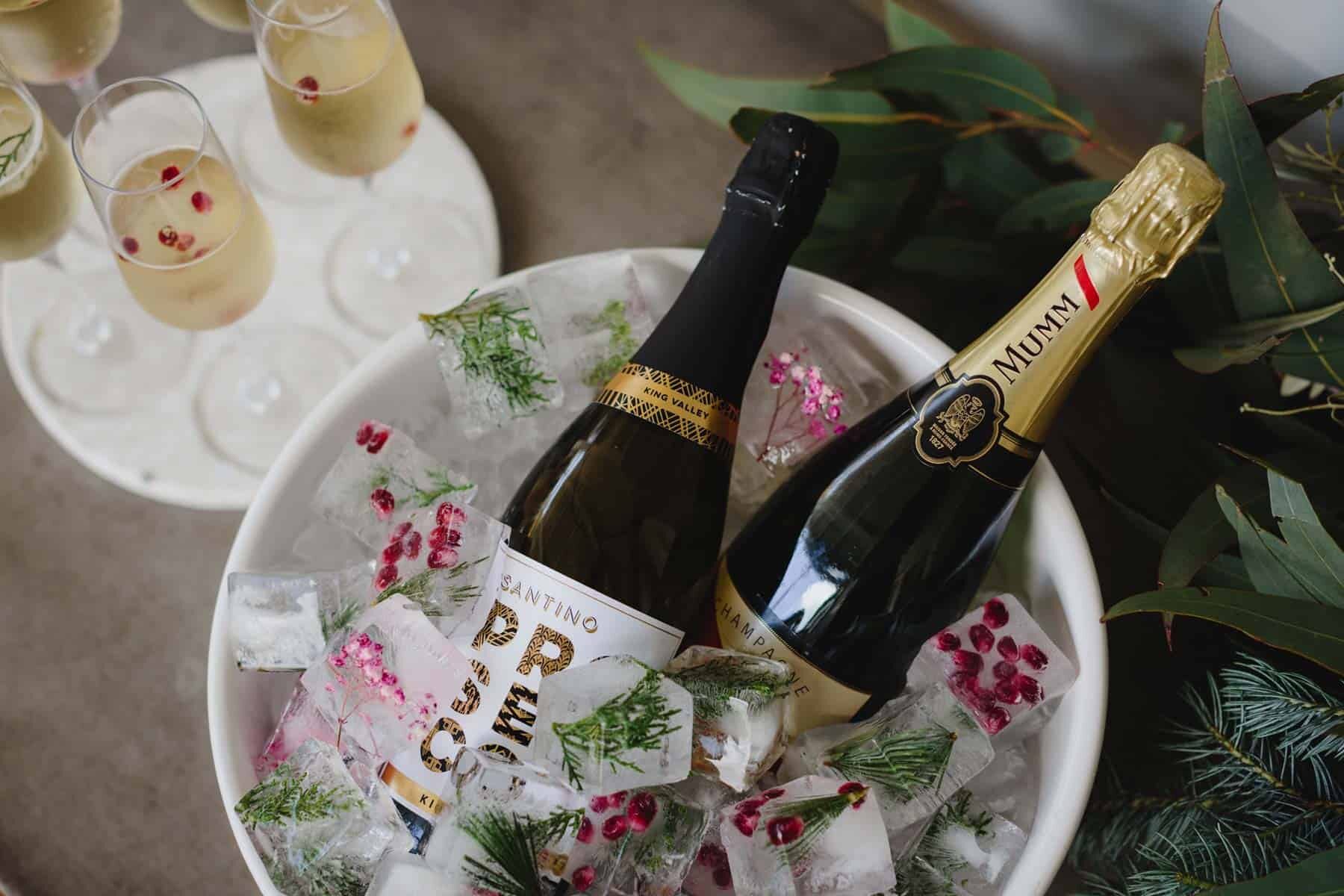 Image source: nouba.com
Using an ice bucket and floral foam, I stick small branches from my Christmas trees at the bottom of the bucket. They look like tiny trees when the stems stick outside the bucket. I then place ice cubes and fresh cranberries in the bucket. I keep the bucket out of direct sunlight to avoid the ice cubes melting. Additionally, at the very top, I like to place a bottle of champagne or wine for the day. It elevates my table settings while keeping everything simple.
4) Cake Plate Tower
Image source: midwestliving.com
I like to bring out my antique stacked cake plates for this decoration. They make an awesome centerpiece as well. I use small buckets and a few branches of my tree to make them look like tiny trees. Next, I fill the buckets with cranberries and use the hollow stems of the cake plates to stack some fresh cranberries. Since they are clear, they look amazing. Finally, I placed other decorative Christmas ornaments on the plates for the perfect Christmas decoration.
What to do With Leftover Cranberries
Of course, I always have other uses for any leftover cranberries. I like to cook with them or make cranberry syrup which I sprinkle on my pancakes. Of course, there are other healthy ways to incorporate cranberries into your diet. Here are some other things I use leftover cranberries for:
Cranberry sauce
Crab apples
Filling for apple pie
Smoothies
Salads
I like to simmer leftover cranberries on the stove during the holiday season. Then, I add other ingredients like cinnamon sticks, rosemary, dried oranges, and cloves for an added touch of festive cheer. Not only is it a natural air freshener, but it also smells amazing. Additionally, since all the ingredients, including rosemary are edible, you'd be surprised at the recipes you can find online. You can use dried or fresh cranberries. I prefer dried cranberries.
The Bottom Line
After the festive season, you might wonder what to do with dried cranberry garlands. The answer is simple, hang them outside for the birds. Christmas decorations don't have to be expensive; they can be simple but meaningful and merry. Additionally, what's better than making edible Christmas decorations?
Featured image source: theoldwalshfarm.com