Edible mushrooms are a delicacy worldwide. However, they don't stay fresh for long. Also, preserving mushrooms for purposes other than consumption can be tricky.
The delicate nature of mushrooms makes it harder. Here's how to preserve mushrooms for display, according to my personal experience.
What Should I Be Prepared For Before Preserving Mushrooms?
First, you should always be prepared for nothing going right. This isn't a reflection on your abilities. After all, mushrooms are dainty.
Secondly, you should be prepared for your display not to match how you envisioned it. Sometimes it goes well, and sometimes it doesn't.
Always remember to have fun with it. Most often, it will go faster, and you will be thrilled by the results. So let's get to it.
Preserving Mushrooms For Display
Firstly you should determine what type of mushrooms you want to preserve. There are 12 different species of edible mushrooms.
I had morel mushrooms readily available and decided to use them. You can get some from your nearest grocery store or garden if you don't have any. Any edible species will work.
If you don't know how to select edible mushrooms, then attempting to forage fresh mushrooms is not advised. Unfortunately, poisonous mushroom species might look like edible ones.
What You Need:
Mushrooms
Paper towels
Silica gel
Airtight container
Pins/toothpicks
Polystyrene block
Resin
Resin mold
Step 1
Now that you have your mushrooms, it's time to set them in a dry location. For this, I laid out some paper towels on my kitchen counter and placed each mushroom carefully on them.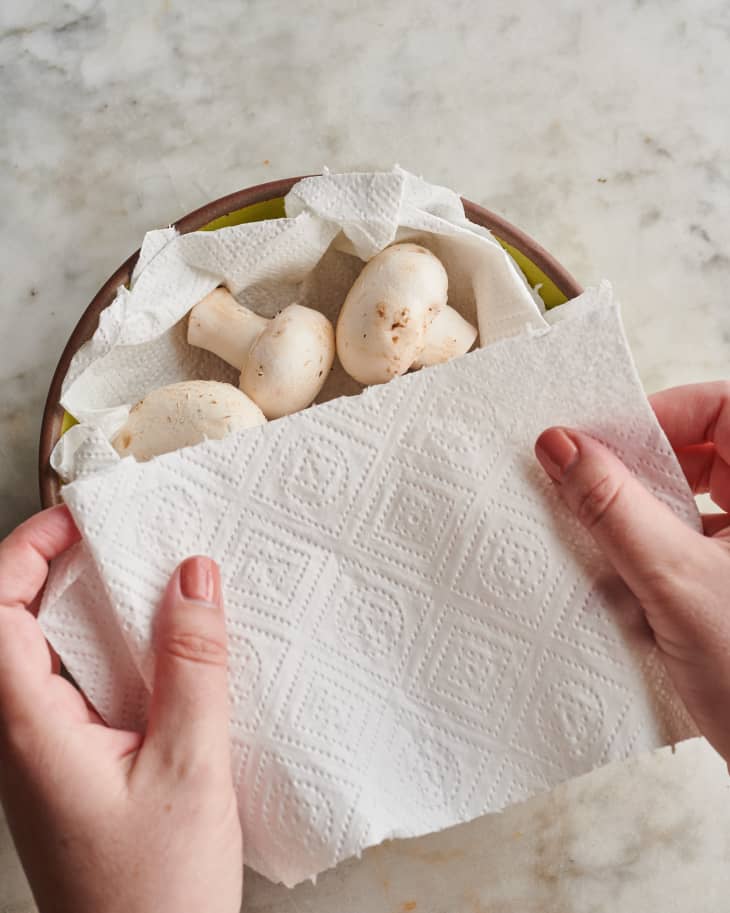 Image Source: Thekitchn.com
Let the paper towels absorb any visible moisture. I left them on my countertop for two hours for the process to complete.
After drying the mushrooms, I separated them and changed the paper towels. At this point, you can use whole mushrooms or sliced mushrooms.
Step 2
After 30 minutes, it's time to use the silica gel. Silica gel is perfect for preserving organics. Plus, it's very fine and reusable.
For this step, you also need a large Tupperware container. Spread a layer of silica gel on the bottom of the container.
Image Source: Cilicant private ltd.
I arranged the mushrooms ensuring they were separated from each other. I then created layers of alternating silica gel and mushrooms. The final layer should be silica gel.
The Tupperware container should have airtight qualities. I sealed the lid and left the mushrooms. It is recommended to allow them to sit for about a day.
However, I extended it by another day. You can also leave them for a week.
I was tempted to open the lid and check on the progress, but this isn't advisable. It will slow down the process if it's opened too soon.
Step 3
After opening the Tupperware container, I sifted through the silica gel and fished out all the mushrooms.
Image source: Cookingchew.com
Removing the silica gel from the mushrooms became very tasking. Silica gel is very fine, and mushrooms are very delicate. So, I had to blow the particles off.
Next, using a small knife, I cut the bottom of each mushroom to make a flat base. Again, this part isn't hard, but it takes time.
While mushrooms have many uses, they are typically fragile even when dried. So you should try to be careful.
After all the mushrooms have a dry base, I start to stick pins in them. For this part, you can also use tiny sticks or toothpicks.
The pins ensure that the mushrooms stay upright throughout the process. Next, I placed the pinned mushrooms into a polystyrene block.
Step 4
After confirming that the mushrooms will not budge, I place the polystyrene block in a resin mold.
Before pouring in the resin, I quickly used a resin spray that would prevent it from absorbing into the mushrooms.
Image source: Youtube.com (Dan Preece art)
Resin spray dries very quickly and provides a nice seal. After I poured the resin into the mold, I ensured no air bubbles were trapped. Dipping a toothpick into the bubble can easily release any stuck bubbles.
Step 5
After the resin dries, it's time to remove it from the mold. But, again, I was very pleased with the outcome.
I used the preserved mushrooms for my console table display. I will be making another resin display for a wall hanging next time.
Since this was the first time I had tried preserving mushrooms, I decided to use the easiest and best method.
Other Methods Of Drying Mushrooms For Preservation
There are many ways to dry mushrooms when you want to preserve them. The methods I mention also double up as preservation for consumption.
1) Using A Food Dehydrator
A food dehydrator is probably the fastest method of drying mushrooms. You can use this process for display, cooking, and decorative purposes.
You can also use this method to extend the shelf life and preserve morel mushrooms (or any other mushrooms).
Image Source: Misterchef.com
This step would replace using silica gel in a container for display purposes. From there, you can proceed as normal.
You can also store mushrooms that have been through a food dehydrator when you want to eat them later.
2) Air Drying
Air drying mushrooms is a method that's been used for a long time. It entails stringing mushrooms and hanging them in a warm but dry area to air dry.
Image Source: Foodhacks.com
After they are dry, you can cover and store them in a glass jar away from moisture. You can then use them for display purposes. However, with this method, it is better to have cooked mushrooms.
This method is effective. But, you might not get the dried mushrooms you were looking for. In addition, if you live in a humid environment, your mushrooms will rot.
3) Oven Method
Did you know it is easy to use your oven to dry all fungi types? It is a good option even for other plants and vegetables.
Additionally, it is also perfect for display purposes. All you need is a baking sheet and your oven.
Image Source: Healthymealshub.com
The trick is not to subject the morels or other mushroom species to very high heat, or they become crisp. Still, this method is very effective, and the mushrooms dry evenly.
You can also make delicious mushroom dishes with dried ingredients. They taste just as good as the mushrooms you store in your refrigerator.
Other methods to preserve mushrooms include freezing them in plastic or storing them in honey, or canning. However, all these methods are for when you need to cook them later.
Other Uses Of Mushrooms
There are more uses for mushrooms than you can imagine. Apart from eating them, making jewelry and ornaments, and contributing to psychedelics, there are other uses.
i) Medicine
Mushrooms are fungi. Therefore, they have found a place in medicine. They have the potential to help fight superbugs.
While it's still highly experimental, some doctors see promise in it.
ii) Building Materials
Mushrooms have been used to make bricks and furniture. They are also used to make a substitute for polystyrene.
Many Eco-friendly companies are very interested in the prospects of using mushrooms for building.
iii) Cleaning Products
The enzymes in mushrooms are good at removing even the toughest stains. They add to the cleaning properties of laundry detergent.
Apart from that, the detergent is biodegradable and can be used in a normal washing machine.
FAQ
1) How Can I Store Mushrooms Long-term?
Given that mushrooms are highly perishable, your best bet would be to store them in a freezer. However, they can still work even for decorative purposes.
Frozen sautéed mushrooms can remain edible for up to 1 month when stored in a fridge.
2) How Long Will Dried Mushrooms Last?
They can last for ages. As long as you maintain them in a dry and dark place after drying them, they last a long time.
3) Should I Wash My Mushrooms?
Yes and no. It depends on what you want to do with them. If you are about to cook them, washing them is fine.
However, if you want to store them, it isn't a good option. Mushrooms have high water content. It doesn't help that they also absorb water.
More water means they won't last long, even when you freeze them.
4) Should I Store Mushrooms In Plastic Bags?
No. Plastic bags trap moisture. Since mushrooms have a high water content, they are prone to release moisture. As a result, the mushrooms will start to turn color and rot.
Plastic bags only come in handy when you plan to deep-freeze the mushrooms. Otherwise, it is not a good idea.
5) Which Is The Most Common Edible Mushroom?
Button mushrooms are the most common type. They are delicious and make excellent soups and decorative pieces. However, there are at least 12 edible mushroom species.
The Bottom Line
Mushrooms are useful for many purposes. Knowing how to preserve and store them to last long will give you an endless supply of this incredible fungi.
Regardless of the technique you use for preservation; there is nothing as fulfilling as making beautiful display pieces of art or jewelry from interesting materials like breast milk!
Featured Image Source: Discovermagazine.com