A necklace is a basic fashion accessory, while a blood vial necklace is a distinctive way to display the body's history or show your attachment to someone or something. Carrying one's blood displays the closest bond, respect, and connection to your heritage or ancestry.
Some celebrities wear blood vial necklaces to show how much someone means to them. However, you don't have to be a celebrity to own one. You can use a blood vial necklace to show something deeply personal.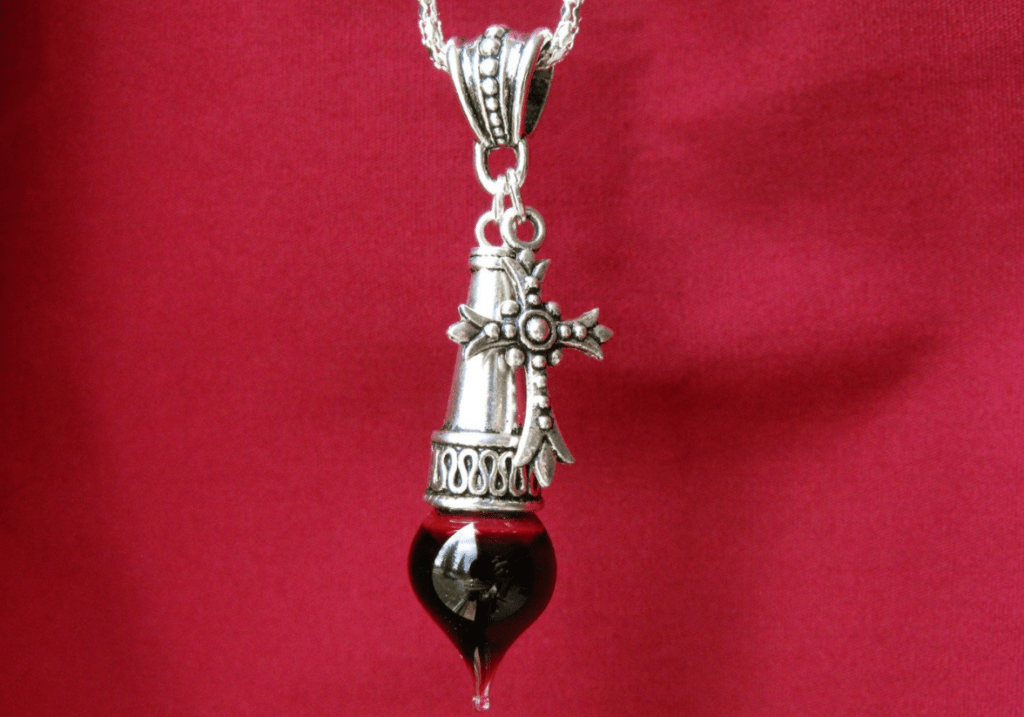 Image Credits: bijouxinspire.com
Vial necklaces are not limited to blood. You could add decorative pieces such as feathers, flower petals, or ashes of deceased loved ones and wear them as a pendant.
A blood vial necklace is a perfect gift for anyone who lost a loved one. Stainless steel and glass are the best materials for creating such a necklace. There are many shapes and sizes, but most are cylindrical containers. Continue reading to learn how to preserve blood in a vial necklace.
Image Credits: Amazon.com
Most parts of the world have strong cultural connections to blood. Blood is vital for life but also a symbol of death. On the other hand, vial blood is connected to witchcraft since, according to folktales, individuals used them to ward off witches.
Pagans and witches value blood in their practices, and many perceive using blood vial necklaces as cultural appropriation since it doesn't define who they are. However, wearing a blood vial necklace doesn't make you someone who adheres to specific traditions.
How to Preserve Blood in a Vial Necklace
1. Purchase a Blood Vial Necklace
Image Credits: pinterest.com
First, you need to buy a brand-new vial necklace which is affordable in most cases, or you could make your own from scratch. It would help if you had a medical-grade anticoagulant (heparin or EDTA) to stop the blood from clotting and a preservative (formaldehyde or formalin) to stop it from rotting.
The rule of thumb is one part preservative or anticoagulant to four parts of blood.
2. Sterilization
Image Credits: amazon.ae
Remember to purchase a sterile medical kit containing syringes, rubbing alcohol, and cotton pads to help you when drawing blood. Then clean your environment and the part of your body where you want to draw the blood using the aforementioned sterilized materials.
Don't forget to clean the vial with cotton wool and rubbing alcohol before using it. Then dispose of them appropriately.
3. Fill Your Vial 
A little human blood goes a long way, about 10-20ml or 1-2 oz, so you don't need to go for the jugular. Then put your blood in a small vial using a syringe and add the anticoagulant and preservative.
You will need to let the vial dry before corking it; consequently, the blood will turn brown. You could add a special message, perfume, or flower to the vial necklace, especially if you gift it to a loved one.
Common Blood Vial Necklace Materials
1. Glass Vial Bottle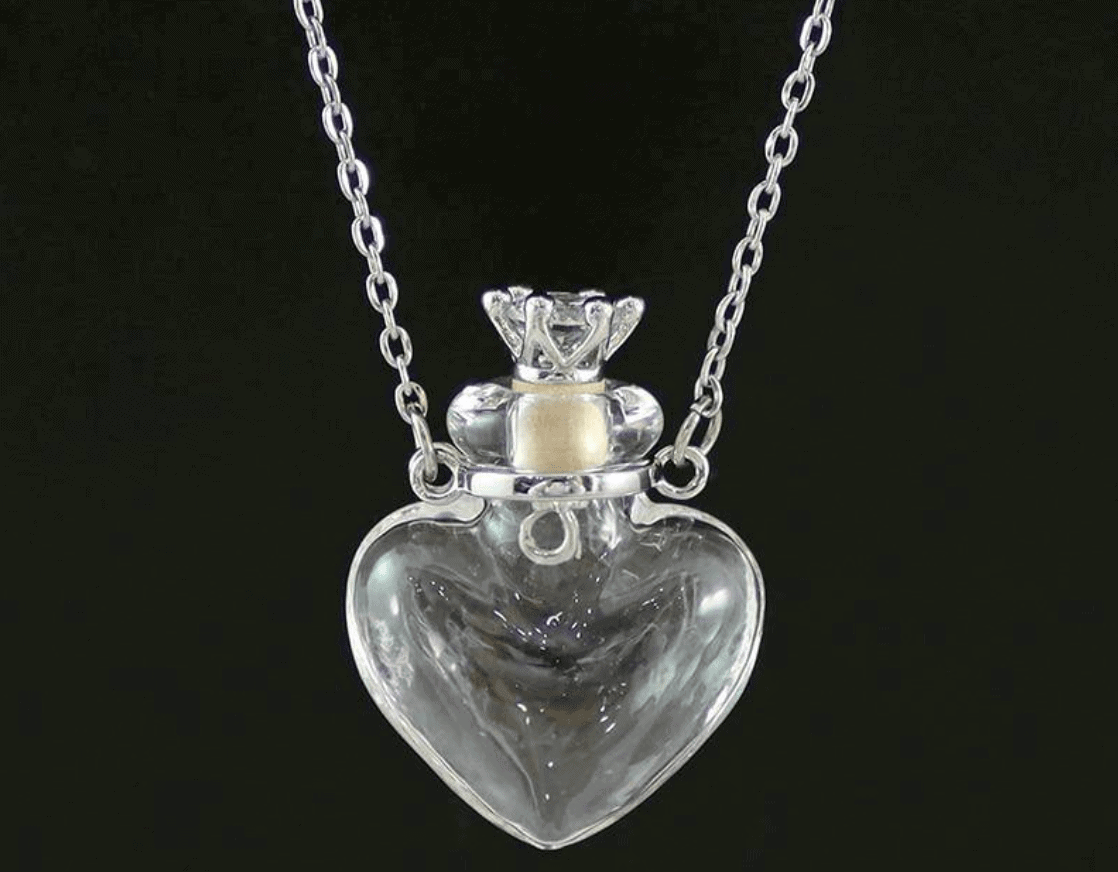 Image Credits: bijouxinspire.com
Most glass vial bottles are reusable. However, you must clean them and fill them with blood, dried flowers, charms, or ashes. A stainless steel chain is a good addition to a glass vial since it is durable and useful when wearing the ornament around your neck.
Clear Heart blood vial necklace
This clear heart 29MM(H) x 25MM(W) vial bottle is perfect for carrying your memories. It also has a 60 cm stainless steel chain which is convenient when wearing the vial. If you are like me and easily misplace stoppers, you will find the 2 stoppers very convenient. One is handmade, while the other is a beaded cork stopper.
Image Credits: wyvernshoard.com
The manufacturer thought through the process of making a vial necklace since they also included a pipette and funnel, which are useful when draining any liquid or dry items into this vial bottle.
2. Metallic Pendant
Image Credits: remaineternal.com
Blood vial pendant necklaces are another alternative for vial necklaces. They could come in several materials, such as stainless steel, sterling silver, silver, or even gold. Your budget determines the type of material you settle for.
Silver requires regular cleaning since it tends to tarnish over time. On the other hand, stainless steel is a great option for anyone who has allergies or sensitive skin. It is resistant to humidity, heat, and scratching.
a) Mealguet Jewelry Stainless Steel Glass Container Tube Pendant Necklace
Stainless steel jewelry is quite popular and fashionable; hence it fits most people's styles. This is a memorial pendant that is suitable for ashes or blood. Moreover, it is durable since it is rust and tarnish-resistant. Therefore, I got my money's worth. The glass bottle inside the stainless steel is tightly secured thanks to the screw and rubber gasket.
b) Prosteel Always in My Heart Memorial Jewelry
We recommend the Prosteel unisex stainless steel memorial jewelry because it doesn't rust or tarnish. It is also fashionable and hypoallergenic hence suitable for all skin types. In addition, this stainless steel vial is airtight. Thus, nothing can get into your vial pendant.
Image Credits: u-buy.jp
It is also a blood vial pendant kit since it comes with the tools your need to fill the vial with blood, perfume oils, ashes of the deceased, or dried flower petals, whatever you deem suitable. It is price friendly yet durable, thus perfect for everyday wear or just as display jewelry.
Frequently Asked Questions(FAQs)
1. Can You Donate Blood to Yourself in Advance?
Image Credits: healthshots.com
Yes, you can. It is known as self or autologous donation and is carried out before non-emergency surgery. It is mainly practiced when you have a blood vessel, bone, or heart surgery. The blood is stored up until the day of the surgery.
The best thing about self-donation is that it reduces the need for blood from the blood banks, thus making it more accessible to those who need it urgently.
2. Does Blood in a Vial Necklace Rot?
Image Credits: bijouxinspire.com
Blood has a shelf life of about 6 weeks, so it can easily rot if not properly cooled before being stored in any container. To prevent this, use a preservative such as formaldehyde before storing your blood in an airtight vial.
In a hospital setting, an anticoagulant such as citrate phosphate dextrose(CPD) is used in the preservation so that the blood continues to produce ATP for red blood cells.
3. How Much Blood Can I Loose Before Experiencing Serious Side Effects?
Image Credits: insh.world
Your health, age, and size determine the amount of blood you can lose before experiencing severe side effects. Some common causes of blood loss are menstruation, miscarriage, childbirth, lab testing, surgery, blood donation, or a nosebleed.
In general, we consider blood loss in terms of percentages. Therefore, you can lose 14% of your blood. However, it is important to note that you only need about 10-20ml or 1-2 oz of blood sample when making a blood vial necklace. This is a very small percentage of your overall blood capacity. Therefore it will hardly have any effect on your health.
Men have more blood than women, whereas adults have more blood than children. Thus, small blood losses in kids can easily affect their health.
4. Why do Couples Wear Blood Vial Necklaces?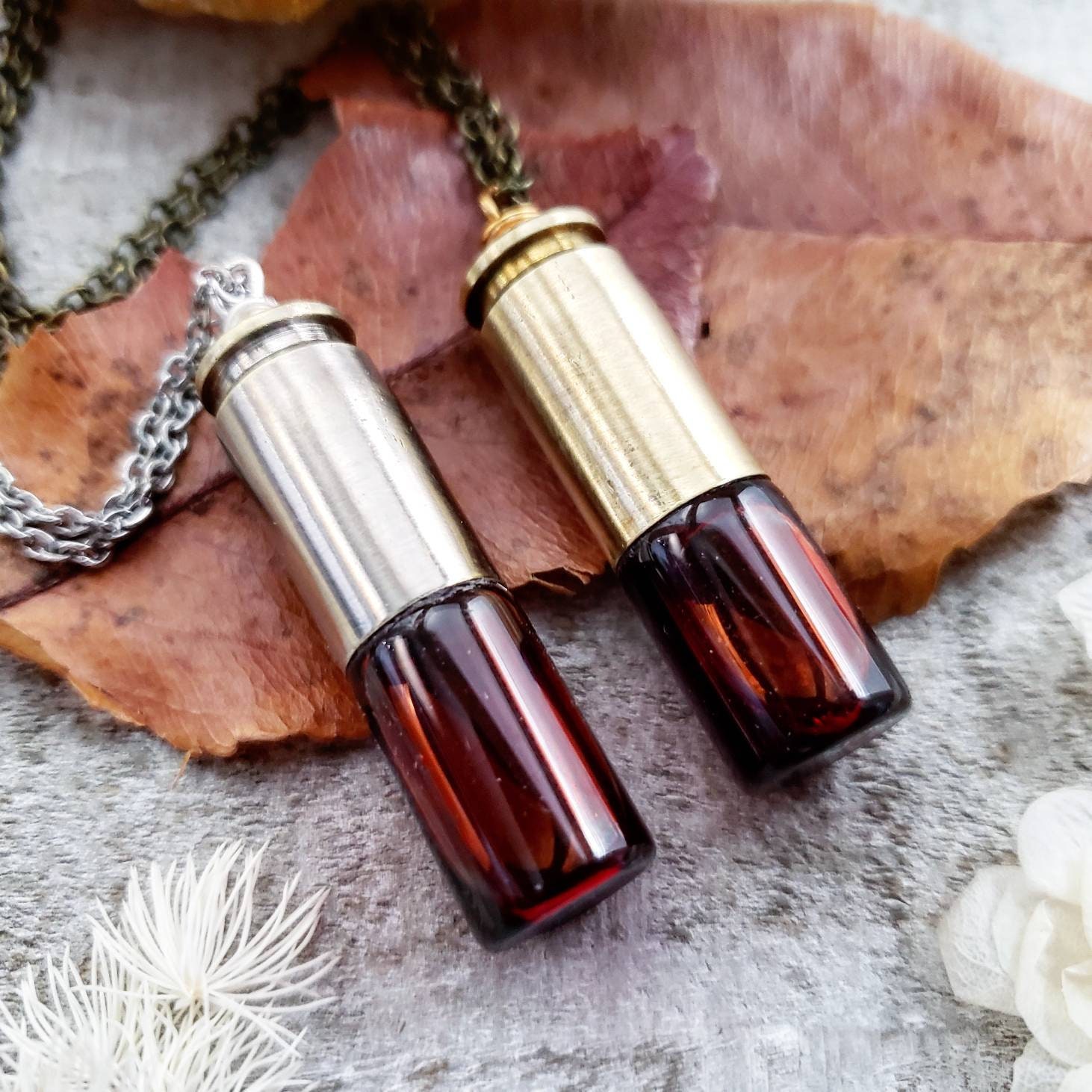 Image Credits: etsy.com
Couples who are romanticly involved wear blood vial necklaces to symbolize loyalty, trust, and their close bond. It is a form of tying two souls together.
5. How Long Can I store Blood in a Vial?
You can store blood in a vial for 42 days without freeing it. However, frozen blood can be stored for 10 years without going bad.
6. What Does Carrying My Blood Mean?
Carrying your blood represents love and trust for yourself and your ancestors. It symbolizes the deep codes by which you choose to live and die.